Have you always wanted to save money by growing your own fresh produce? Or maybe you've tried over and over again, but your seeds just will not grow? Well we have the solution you've been looking for here at Page's.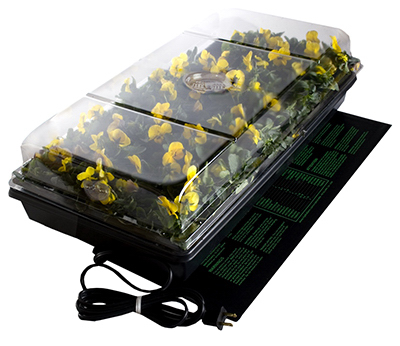 Heated Germination Station
A germination station is basically a mini heated greenhouse that offers enhanced growth success by providing gentle warmth to your plants with controlled humidity under the dome. This allows you to be in full control of your garden this year. Now you have the option to grow indoors or out. Your plants will be protected from all of the elements, temperatures, and scavengers that could be harmful to them. The plastic dome allows for better humidity control for optimum growth. Having everything in one heatable space leads to healthier growth starts and increases germination success.
Features:
– Electric waterproof warming mat – 2″ humidity dome with dual vents for optimal airflow
– 11″ X 22″ watertight base tray
– 72 cell seeding insert
– Seed starting booster
All Year Round Gardening
Buying herbs at the grocery store can be a bit pricey so why not grow your own indoors? This will allow you to have fresh herbs at your fingertips all year round. You can also plant flowers to bring some color into your life during the dreary winter months.
Other Products
We also sell a 2′ grow light system, heating mat, vented dome, cut kit plastic tray, Jiffy professional greenhouse kit, and of course all the seeds you will need to start your garden right this year.

When to start your seeds for outdoor gardening

Below is a list of when to start your seeds according to The Old Farmer's Almanac.

We have all different kinds fruit, vegetable, and flower seeds available here at Page's. Stop by and pick your favorites for this year's garden!